Unrivalled accuracy
Improve safety and efficiency
Our telltale systems have been proven in some of the world's largest mines to dramatically improve safety and increase efficiency – independently assessed to reduce injury and incident reports by 65% and increase productivity by 40%.
– The RockMonitor XR system tracks strata movement throughout the mine in real-time, providing information to central control areas and giving advance warning of excessive displacement.
– Respond early to prevent stoppages due to excessive strata movement, and in the worst case scenario where rockfall cannot be prevented, to facilitate the early evacuation of mine personnel and equipment.
– Automated notifications provide advance warning of excessive movement so that workers never have to take unnecessary risks.
– Significantly improve bolting strategies by analysing detailed rate-of-movement graphs to determine the optimum amount of protection. An independent study showed a 49% cost reduction in standing supports through increased spacing with the Trolex-Nome telltale system deployed.
– Increase the up-time on longwall operations, through efficient deployment of assets and by eliminating the need to stop production to take manual readings.
65% reduction in injuries and incident reports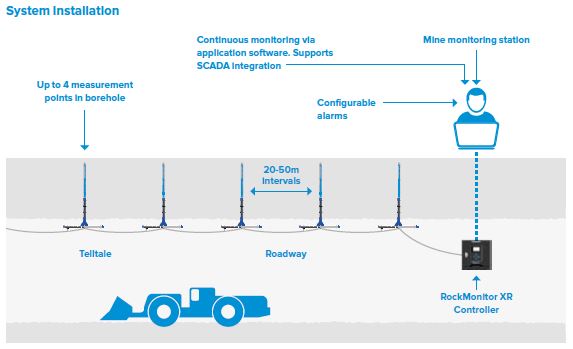 RockMonitor XR Mine-Wide Strata Monitoring
Mine-wide remote strata monitoring
The RockMonitor XR system provides a continuous, remote strata monitoring solution that delivers detailed real-time information on rock movement throughout
the mine. The intrinsically safe system comprises a controller combined with multiple telltale measurement instruments.er environments, giving users more confidence whilst reducing the total cost of ownership.
Information is transmitted back to the control centre with information displayed via sophisticated application software. The system can also integrate with SCADA platforms to provide continuous information on the system status.
Plug and play
Installing measurement devices underground can be extremely challenging. That is why the RockMonitor XR system has been designed to be as simple as possible to install and setup.
Flexible alarms
Alarms are fully configurable for any telltale and can be tailored for each specific measurement point. Monitor rate of movement or absolute movement,
use system wide alarm setpoints or location specific configurations to suit the geological profile or bolting strategy.
Monitoring, analysing and reporting
Collating, analysing and reporting data is essential for any mining operation. The RockMonitor XR system makes this fast and easy via powerful Core
application software.
View live readings or historic data and output detailed graphs to provide critical insight into strata movement and mine safety. Users can monitor multiple systems using detailed GIS mapping to give at-a-glance information on measurements and alarms.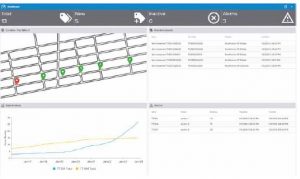 Enquire Now
The benefits associated with this product series are outstanding - a 65% reduction in injury and incident reports, 40% increase in productivity, 49% reduction in standing support costs - all independently accredited. Every mine in the world should have one of these systems installed and it's our mission at Nome to ensure that they do.