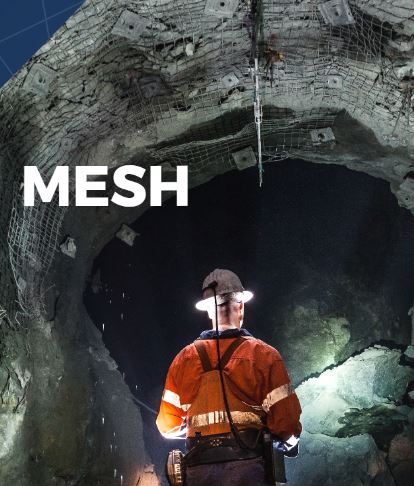 Robust And Lightweight Plastic Mesh
These geosynthetic products are lightweight and economical with high-strength performance. They offer strength and stiffness and are a popular alternative for underground support due to the following features:
Large gaps to allow passage of drill steels
Light unit weight for ease of handling by a single person
High visibility and fire resistance
Long design life in corrosive environments
Thick ribs for robust durability
Geogrid and Geotextile Applications
Geogrid mesh and geotextile mesh are also appropriated for specific applications. Geotextile fabric suppliers will be able to provide woven or non-woven geotextiles for your required purpose. In general, they are used when soil separation and permeability are required. Geotextile offers filtration, reinforcement, protection and drainage properties for soils in construction and engineering works. Non-woven geotextiles are typically used for rock revetment, French drains or in combination with other subsurface drainage methods. Overall, geotextiles make for thinner membrane fabrics, which strength can reinforce soil and prevent damage. They're great for construction in filling the gaps between roads to improve soil structure. Additionally, they help make poor, difficult-to-work-with soil better to use and easier to build in.
On the other hand, geogrids offer the same versatility while being more appropriate for soft and hard rock mining, and other earthworks. They're a prime option for environmental engineering, roads, pavements and foundations where high tensile strength with low elongation is needed. Geogrids are particularly useful in soil reinforcement where slopes and retaining walls are concerned. They can be repurposed as recovery screens, mine ribs and sidewalls, temporary and permanent tunnel support, heap leach and tailings. Beyond mining, they're also beneficial for soil stabilisation, subgrade improvement, pile foundations, bridging voids and sinkholes in landfills.
They offer:
Cost effectiveness
Creep resistance
Flexibility and durability
UV resistance
Corrosion resistance, being chemically and biologically inert
High junction node strength
Safe and easy installation
Resistance to installation damage
Our Featured Product — Plastic Mesh
Thanks to our design and manufacturing team, Nome Services has produced a lightweight, high-strength plastic reinforced mesh for use in the underground mining industry.
Features
Multiple strength grades available ranging from 20kN to 50kN
Lightweight
FRAS (Fire resistant anti-static) rated, self-extinguishing
Multiple widths and lengths available: roll width up to 6m available in 10m and 50m rolls and or specified cut lengths
Individual client requirements can be met with ease
Smooth finish
Easy to install and cut to size
Flexible
Features
Coal Mining
Hard Rock Mining
Tunnelling
Civil
Rib Support, to enable ease of production with the longwall machinery
Secondary support works in existing roadways
Cavity support